Apolidi - 2020 - Katia Viscogliosi & Francis Magnenot (Italy, France) - 19'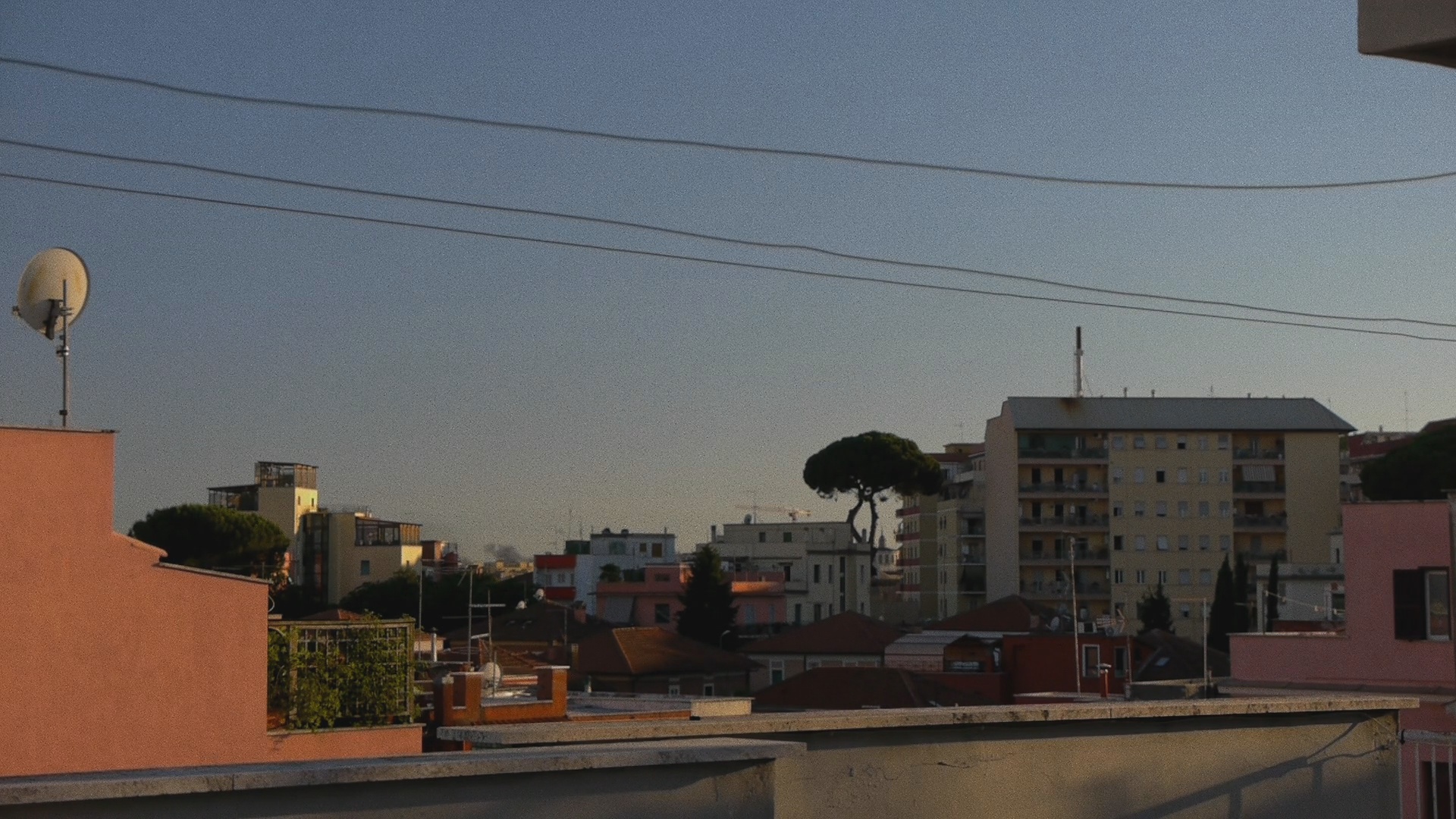 Intuiva Pasolini che cinema e vita condividono lo stesso alfabeto audiovisivo. Ma dove Vita sembra mancare, Cinema ovunque si cerca. Nelle strade vuote, dove nessuno è di casa, confondendo voci umane e cicale, spigoli e azzurro. Si fa cammin facendo, su una panchina o da una terrazza, soffermandosi su fatti minuti, e cercando la propria idea nelle parole e nelle pagine altrui. Passante fra passanti, si fa dettare un tracciato dal cielo. Ad esso mira, fragile nei mezzi, vigoroso per slancio, simile in questo a margherite e malve per caso spuntate tra selciati sconnessi a due passi dalla casa dell'Accattone. Cerca casa in questa stessa nostra notte, cerca il criterio per raccordare tra loro le inquadrature, e un ordine a questo secolo stupido. Si proietta in strada, ci siede accanto, vivo.

Pasolini understood that cinema and life share the same audio-visual alphabet. But where Life is lacking, Cinema can be searched (and found) everywhere. In empty streets, where nobody feels at home, where human voices mix with the sound of cicadas, where the corners of buildings meet the blue. Cinema can be made on the path, on a bench or from a terrace, focusing on small facts, and looking for an idea in the words and pages of others. Passenger among other passengers, this cinema follows a route coming from the sky. And it looks towards the sky, with fragile tools, with a vigorous fervour, so similar to daisies and mallows popping from a rough road near the Accatone house. This cinema searches for a home in this very night, looks for a way to combine the frames, seeks order in this stupid century. A cinema projected onto the street, or sitting besides us, alive.
Battlefield - 2020 - Silvia Biagioni & Andrea Laudante (Italy) - 10'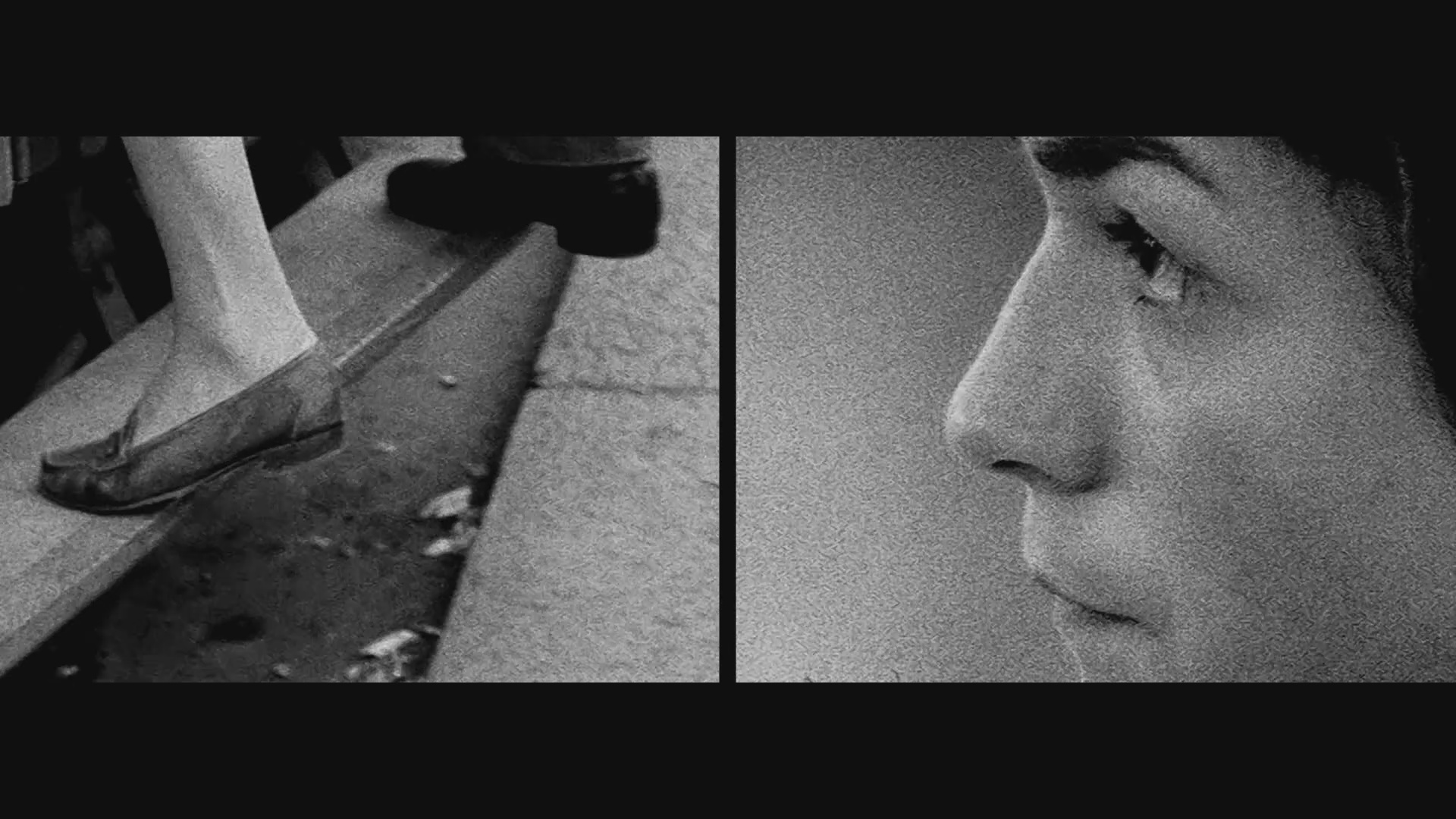 Quando la seconda ondata del movimento femminista approda in Italia, su quale terreno immaginativo si poggia? Le sfaccettature della condizione femminile di quel mondo sono le prime risposte di questo film creato a partire da materiale d'archivio. Scarpe col tacco, sguardo che ritorna a terra, soubrettes oggetto di desiderio, lavoro artigianale relegato ai confini di un tempo antico, anelli al dito. Immagini che prendono soltanto una porzione di spazio, un frammento di tempo, quasi non gli si volesse dare importanza. Ma poi arrivano immagini di donne che si trovano a dover rivendicare per sé il diritto alla libertà, al lavoro, all'aborto. Cortei di anime, che sfilano e sfidano il vero campo di battaglia, che è quello dell'immaginario; per ribaltare quella condizione di subalternità e rendere desueta l'idea di donna come «colei di cui si scrive ma che non scrive».

Which was the imaginative landscape when the second feminist wave landed in Italy? Some facets of the female condition are the first answers of this found-footage film: high heels, eyes to the ground, desired soubrettes, old fashioned artisanal jobs, wedding rings… These images only take a section of the screen, a fragment of time, as if they were not so important. After a while, however, there come frames of women fighting for their freedom, for their jobs and sexual rights. Demonstrations to show and face the real battlefield: the imagery; to overturn that subordinated condition and make the idea that a woman is «someone you write about but not someone who writes» obsolete.
The Bearers of Memories - 2020 - Miglė Križinauskaitė Bernotienė (Lithuania) - 13'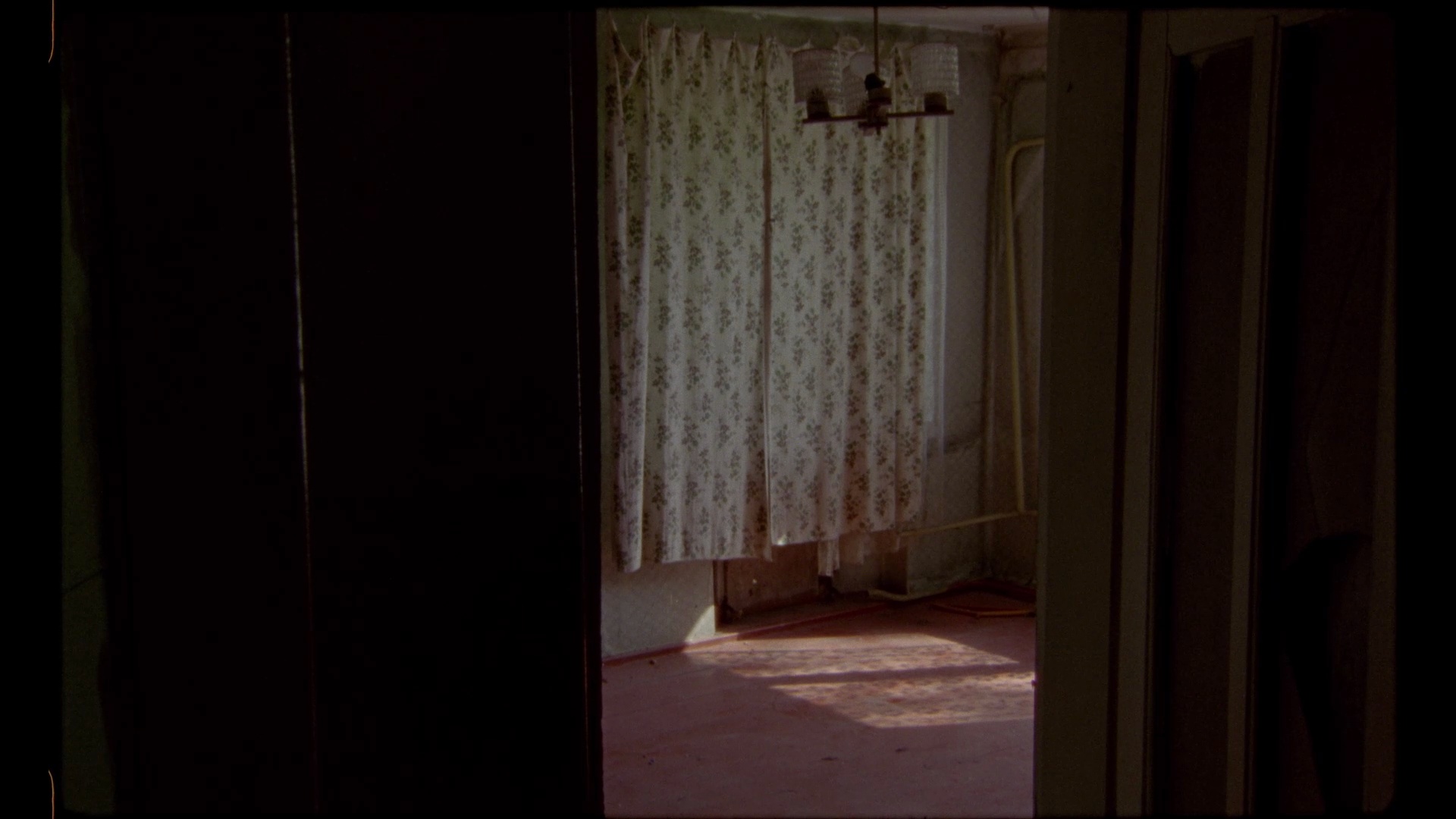 Se a guardare avanti si scorge il passato, cos'è ciò che stiamo vedendo? E se quindi alle nostre spalle ci fosse il futuro, come interpretare quelle immagini che non abbiamo visto perché ci troviamo davanti? Occhi gonfi di cose attraversate dal tempo; i capelli di una giovane donna le celano lo sguardo, sono contorno appena accennato: in tale prospettiva ci siamo noi che guardiamo. Noi, a cui viene regalata la meraviglia di un mare di erba, che è terrigno e marino insieme, è immagine assoluta, senza legami con il resto, un brandello di un tempo altro. Scorre questo mare verde, così come le immagini in camera oscura, i piedi nell'acqua, le visioni di un domani sfocato, i cambiamenti di luce sulle tende. L'occhio emerge dal bagno rivelatore, non è il soggetto che guarda ma l'oggetto della non-visione, rievocabile solo attraverso le parole, in grado di sopportare, di diventare, dunque portatrici di memoria.

If looking ahead we see the past, what are we seeing right now? And if behind us, therefore, there is the future, how should we interpret those images that we have not seen because we are standing in front of them? Swollen eyes with things crossed by time; a young woman's hair – barely outlined – conceals her gaze: in this perspective we are looking. And we are given the beauty of a sea of grass, both terrigenous and marine: it is an absolute image, without any ties, a shred of another time. This green sea flows, as well as pictures in a darkroom, feet in the water, the visions of a blurred tomorrow, the changes of light on the curtains. The eye emerges from the revealing bath: it is not the subject-that-looks but the object of non-vision, which can be recalled only through words, capable of bearing, of becoming, therefore, bearers of memory.
Brief Glimpses on the Way to Joy - 2020 - Richard Fedorchak (USA) - 19'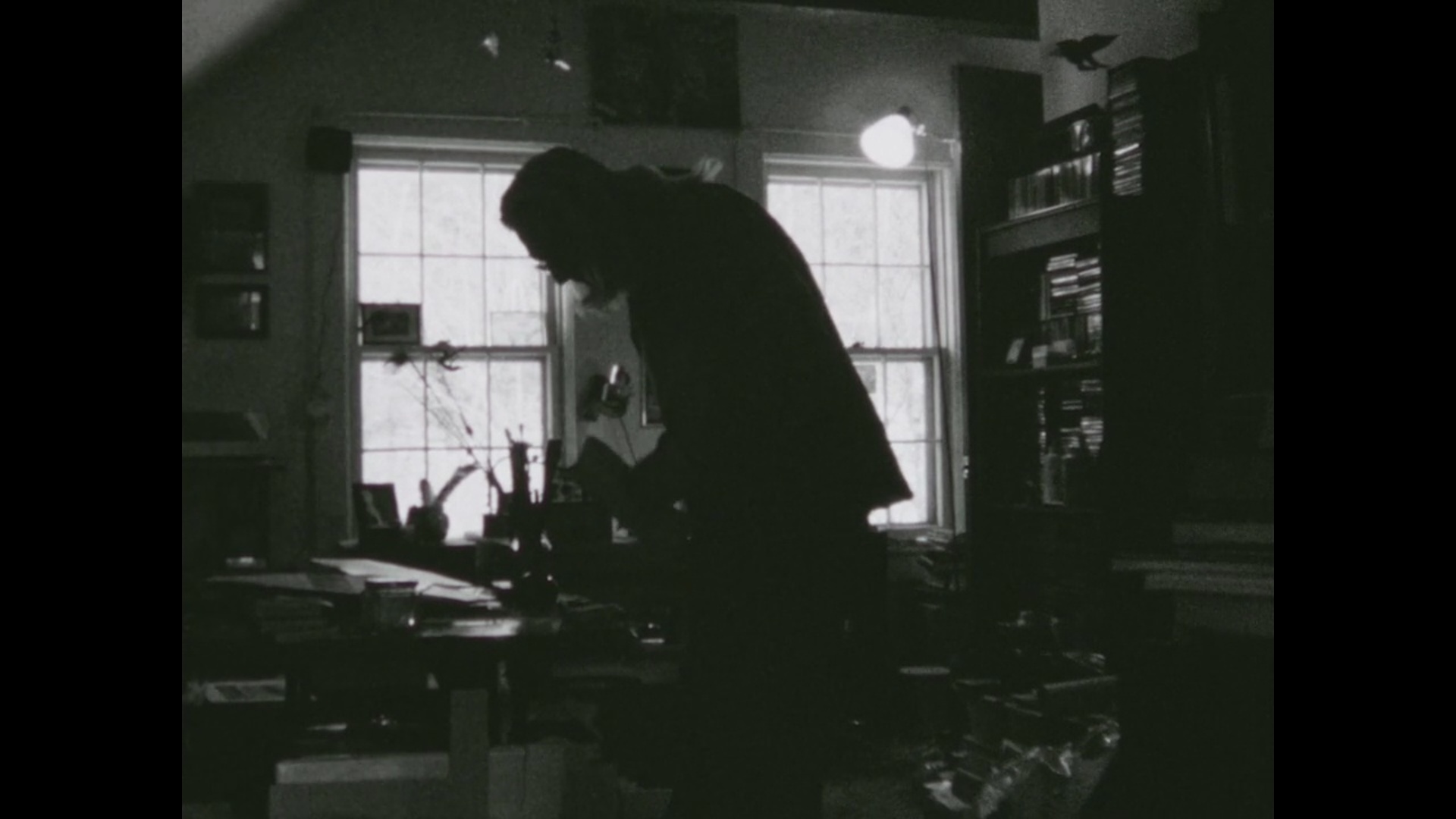 Sono letteralmente brevi scorci sulla strada della gioia. Rovistando nel proprio archivio di immagini private – accumulate per anni, forse dimenticate, ma solo per poter essere guardate in un secondo momento con occhi rinnovati –, Rich Fedorchak riesce a trovare nel montaggio quella frattura in cui può dilagare il libero flusso dei giorni trascorsi e delle associazioni. Sulle ali di una colonna sonora travolgente – i brani dell'Ensemble, et al –, gli occhi si riempiono di gioia che altro non pare se non quello stato di pienezza che precede il nubifragio.

By rummaging in his private photo archive – collected for years, perhaps forgotten, but only to be rediscovered later, with fresh eyes –, Rich Fedorchak manages to find in the editing process that fracture in which the free flow of past days and mental associations can flood in. While an overwhelming soundtrack by Ensemble, et al plays, eyes are filled with joy, a joy that seems nothing but that state of fullness preceding the storm.
Collisione - 2019 - Gianfranco Piazza (Italy) - 8'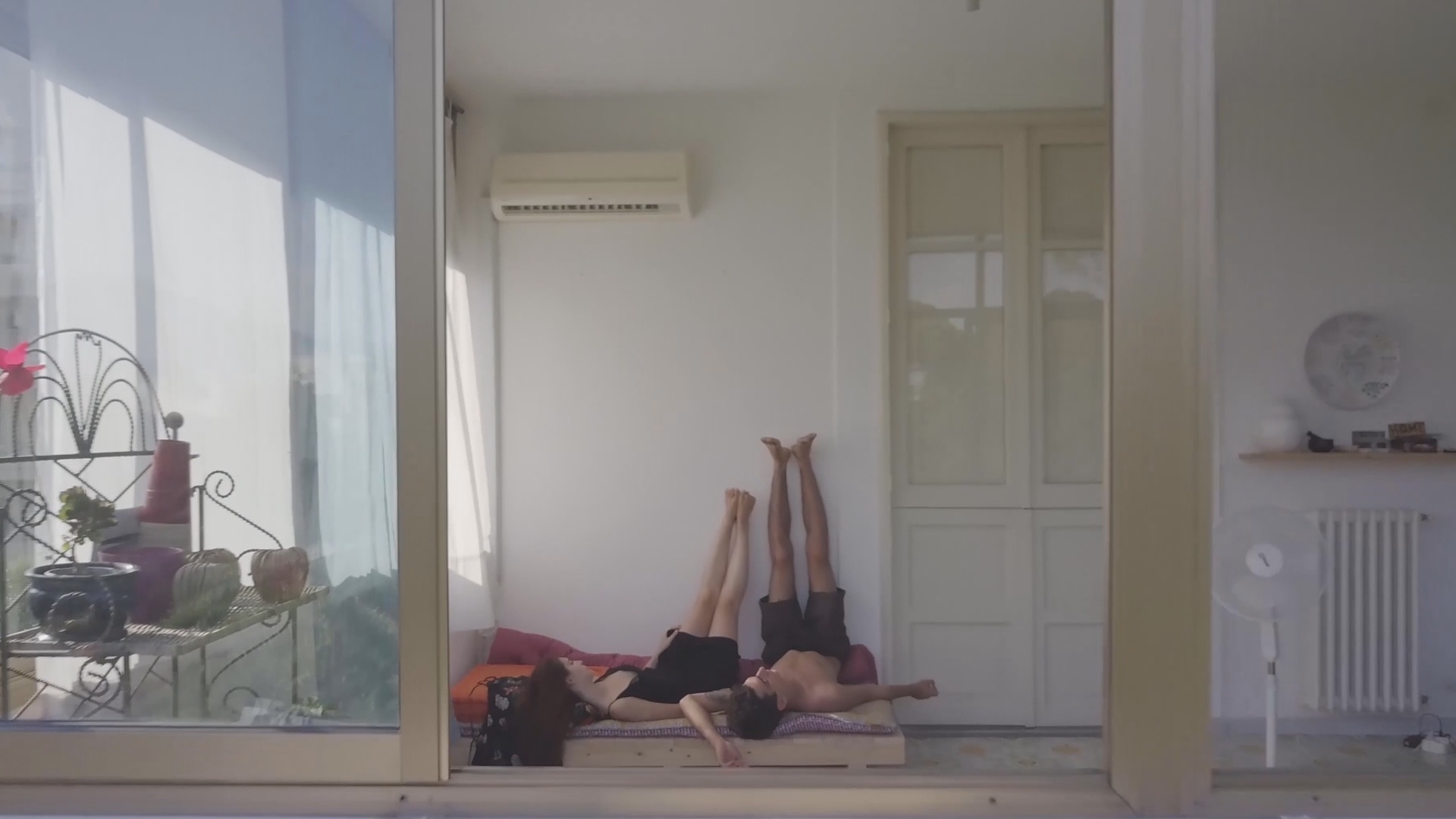 Un dito tocca la pelle; questa accusa la pressione e, elastica, accetta. Un'intromissione morbida che entra nelle maglie infinitesimali di quel contatto, nei suoi atomi: è la prima immagine consegnata allo spettatore. È collisione del quotidiano con l'eterno, e voci antiche stridono su immagini del nuovo da indagare, dello schermo che riprende schermo, è conflitto imploso tra chi condivide forzatamente uno spazio e danza armonica di chi invece ne ricerca la vicinanza. Collisione di mani che lavano altre mani, di luminarie nel buio notturno, tra il piacere esposto e quello agognato. Collisione di un punto nello spazio, nell'astrazione più totale e nella concretezza dell'inedia piacevole che si estranea dal mondo anche se vi è inclusa. Vita senza nessi perché la linearità non appartiene al mondo.

A finger touches the skin, the skin feels its pressure and, flexible, accepts it. Entering the smallest bonds of that connection, its atoms: this soft intrusion appears in the first scene of the film. It is a collision between everyday and eternal life, ancient voices and new images to explore, screens and other screens; it is an imploded conflict between who is forced to share a space and who finds an intimate closure. Collision of washing hands, of lights in the dark night, between exhibited and wanted pleasure. Collision of a spot on the wall, between pure abstraction and a concrete lazy action, that is both out and in the world. It is an unlinked life because linearity does not belong to the world.
Demain est annulé - 2020 - Charlie Perillat (France) - 6'

Un gruppo di finti alternativi fanno un picnic in spiaggia. Gli atteggiamenti da Nouvelle Vague tradiscono il forte ascendente di una Ancienne Vague. Questa vague, questa "ondata", avanza sordidamente, traendo nel suo ventre tutto ciò che incontra, finché la saliva delle sue acque salmastre non finisce per appianare ogni cosa. I giovani affondano sotto il peso del passato in un mare che sarebbe potuto appartenere a una pièce di Samuel Beckett. Il fatto che non si riesca a pensare al presente suggerisce che non ci sia alcun futuro.

A group of fake-alternative guys are having a picnic on the beach. Their Nouvelle Vague poses reveal the strong influence of an Ancienne Vague. This vague, this "wave", moves forward sordidly, absorbing in its stomach everything it encounters, until its salty saliva ends up smoothing everything out. The group sinks under the weight of the past in a sea that could have belonged to some Samuel Beckett's pièce. The fact that no one there can think about the present suggests that there is no future.
Firefly - 2019 - Claudia Claremi (Cuba) - 16'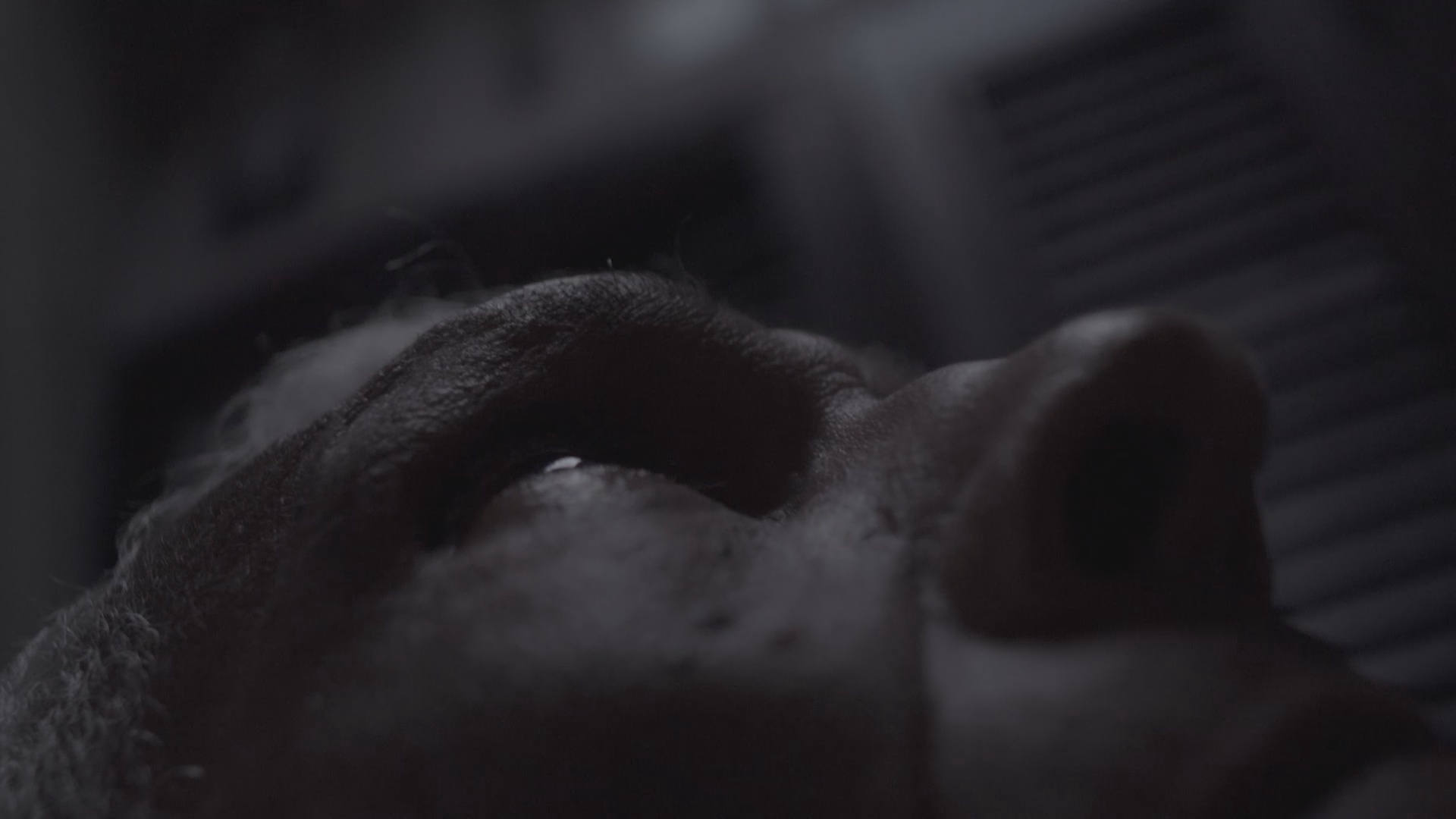 Dove inizia il corpo, dove la luce? La forma viene meno alla sua definizione per mostrarsi come massa di colore. Dal nero emergono luminescenze di lucciole, in una danza che è lotta e attesa, indagine che plasma il mondo: solo chiaroscuri da cui intravedere guance, fronte, naso, orecchie, palpebre; luce-acqua che mostra a tratti, che scalza la messa a fuoco. Contro la tracciabilità dei confini del sensibile, per non vedere, ma stravedere le ombre che danzano, quasi fossero lucciole anche loro, senza contorni decisi eppure oggetto del desiderio di visione. Visione che spinge sempre altrove, verso uno sguardo oltre lo schermo, obliquo, verso un tutto inafferrabile nella sua completezza, come il vento. Come il bianco.

Where does the body begin, where does the light? The shape fades to reveal itself as a colour mass. A luminescence of fireflies glows in the dark, a dance that is both fight and expectation, an investigation that shapes the world: cheeks, forehead, nose, ears, eyelids glimpsed in chiaroscuro, a light-water that intermittently shows, that undermines the focus. Against the traceability of the boundaries of the sensible world, not to see, but to overlook dancing shadows, as if they were fireflies too, without definite outlines and yet an object of desire for the spectator. A vision that always pushes elsewhere, towards a look beyond the screen, oblique, towards an elusive whole, like the wind. Like white.
The Flame of the Spent Hour - 2020 - Roger Deutsch (Hungary) - 8'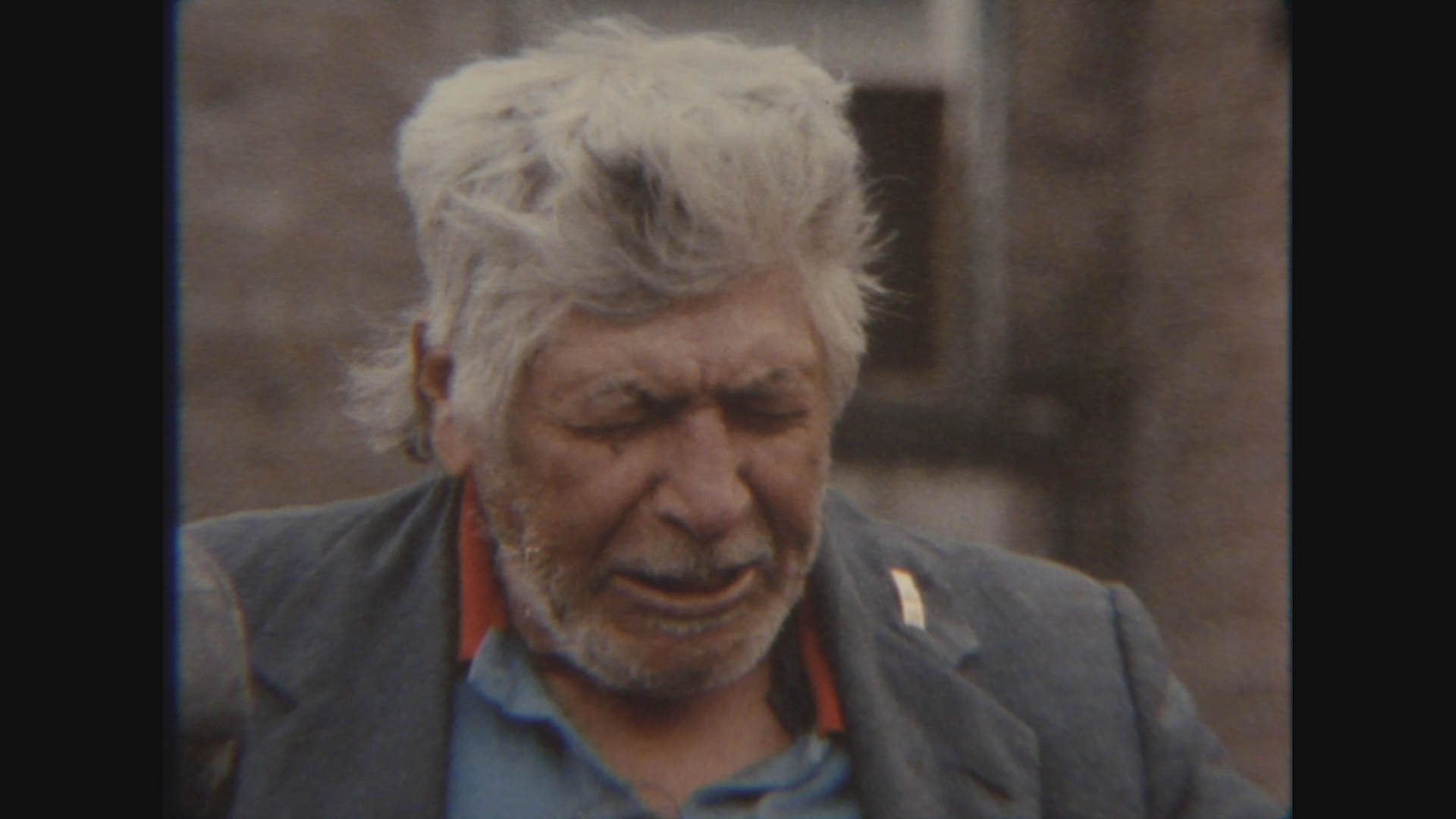 La pellicola si infiacchisce e invecchia, con l'incessante nascere e rinascere del film sullo schermo, si ripete sempre diversa; scrive infatti Pessoa: «Ora dopo ora l'antico volto di esseri/ ripetuti cambia, e ora dopo ora,/ pensando, invecchiamo». Nella parentesi formata dalla prima e ultima inquadratura si condensa un piccolo mondo che reinventa relazioni e associazioni d'immagini stanche: un treno si muove nel tempo incrociando pezzetti di Storia – e storie – provenienti da chissà dove. E come una suite diabolica venuta dal passato il brano Saccharin dei Rachel's fa da sottofondo ad una cena di fantasmi in cui anche le risa sembrano urla. I fantasmi firmano per entrare – ma uno spettro non può che firmare con inchiostro invisibile.

A film repeats itself always differently. Because of its birth and rebirth on the screen, celluloid grows old and weakens; in fact Pessoa writes: «Hour by hour the ancient face of repeated/ Beings changes, and hour by hour,/ Thinking, we get older». Inside the parenthesis made by the first and the last frame of this film, there is a small world that reinvents relations and associations of weak images: a train that moves over time crossing pieces of history – and stories too –, coming from unknown places. As if it were a diabolic suite from the past, the song Saccharin by Rachel's plays in the background of a dinner of ghosts, where laughs seem shouts. Ghosts sign at the entrance – but a ghost can only sign with invisible ink.
From time without beginning - 2021 - Lorenzo Gattorna (USA) - 7'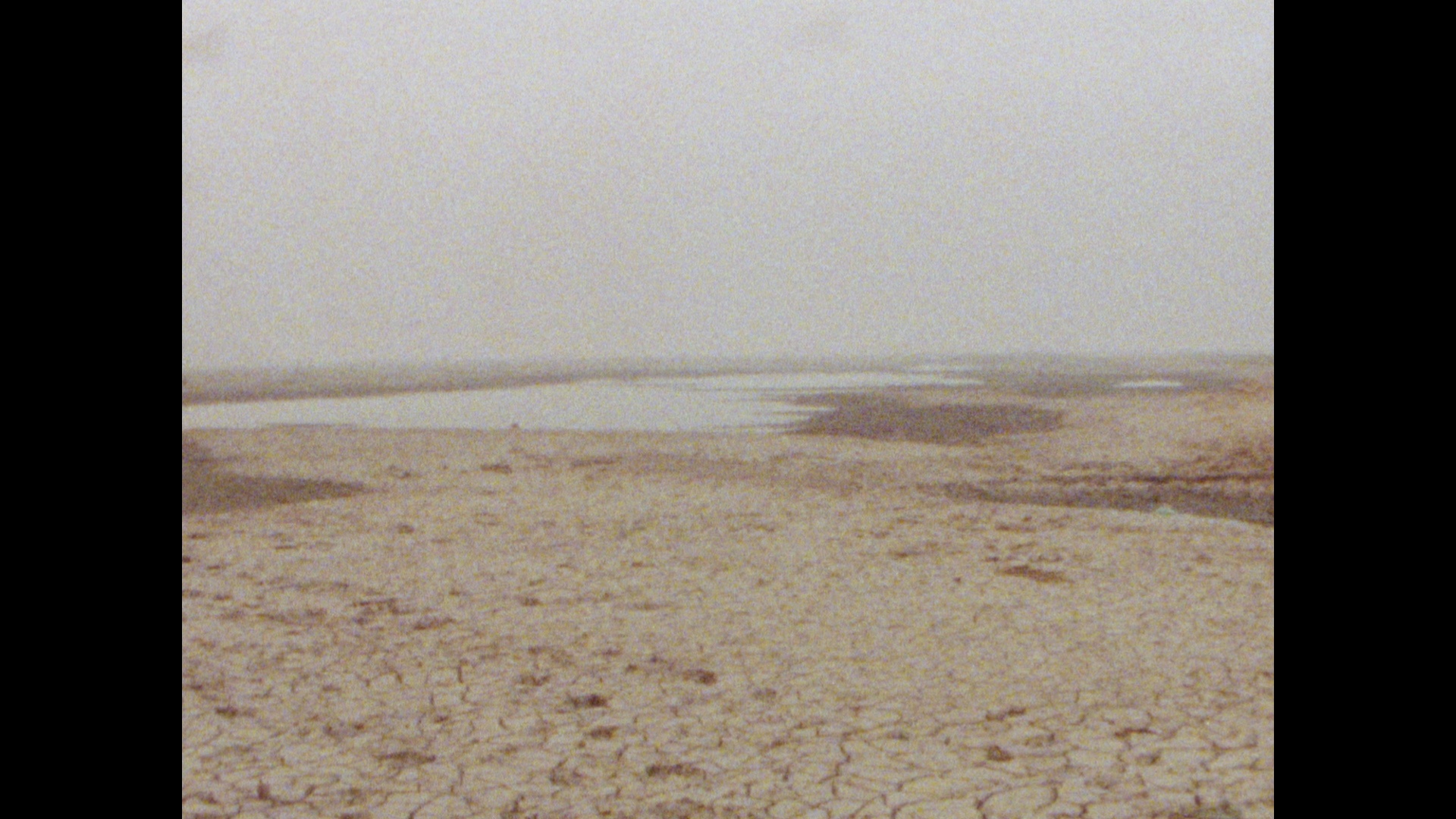 Empedocle, nel suo Poema fisico e lustrale, parlava di «elementi non generati» (fuoco, acqua, terra, aria), «che mai non hanno inizio né hanno termine alcuno» e dai quali nascono «tutte le cose che furono e che saranno, e le cose che sono»; parlava anche di un tempo senza inizio (time without beginning), in effetti. Frizionando dicotomie e complementarità, Lorenzo Gattorna filma i pilastri elementali del mondo e li tiene insieme con quelli elementari del cinema: la luce, il buio, il bianco e nero, il colore, l'astrazione e la figurazione, la cruda pellicola. Quest'ultima in particolare è mostrata nuda, atomo delle immagini, pura materia, pura luce, puro spazio. Questo mondo, filmato dai cineasti, non è molto diverso da quello di Empedocle, eppure non ne ha ancora abbastanza di essere rappresentato.

Empedocles, in his Physical and lustral poem, spoke of «non-generated elements» (fire, water, earth, air), «which never have a beginning or an end» and from which «all the things that were and will be, and the things that are» were born; he also spoke of a time without beginning, actually. Rubbing dichotomies and complementarity, Lorenzo Gattorna films the elemental pillars of the world and holds them together with the elementary ones of cinema: light, dark, black and white, colour, abstraction and figuration, raw film. The latter in particular is shown naked, an atom of images, pure matter, pure light, pure space. This world, filmed by filmmakers, is not very different from Empedocles's, yet it has not had enough of being represented.
Himala: a Dialectic of our Time - 2020 - Lav Diaz (Philippines) - 8'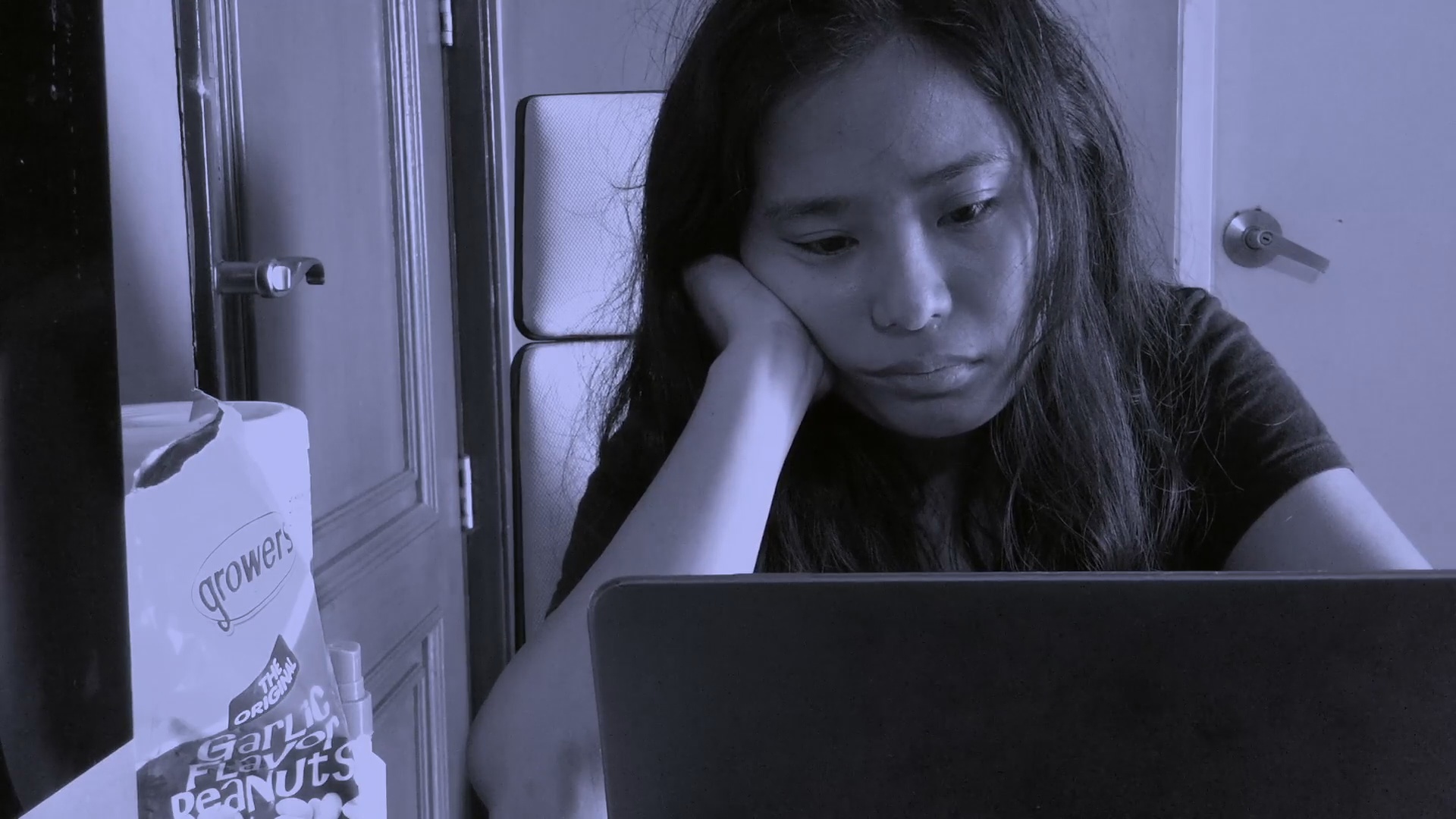 Sui propri piccoli e piccolissimi schermi, i costretti in casa dal lockdown guardano Himala, un classico del cinema filippino. In faccia al loro silenzioso sguardo – che ai piccoli schermi chiede quello grande e un'altra vita fuori di essi –, il film urla una fame di verità. Nella paranoia del complotto, nella ricerca di ragioni, di miracoli che non potranno che venire da noi stessi, nelle imposture della classe politica, nelle riprese domestiche con dispositivi d'uso comune, nella stessa fame di cinema, ci siamo noi. Nel far vedere il guardare dei solitari, con la tensione incendiaria di un manifesto politico, Lav Diaz ci consegna un ritratto del nostro tempo, mostrandoci come ciascuno anche in casa propria sia ancora "popolo" con un'immaginazione in comune. Il film in cui ci siamo fermati.

On their small and smaller screens, homebound people during quarantine are watching Himala, a classic Filipino movie. Unfolding before their silent eyes – which focus on small screens, but yearn for the big one and another life outside of them – the film screams for the truth. In the paranoia of conspiracy, in the search for reasons, for miracles that can only arise from ourselves, in the deceits of politics, in the domestic environments shot with common devices, in the hunger for cinema: there is us. With the incendiary tension of a political manifesto, Lav Diaz makes us watch these forced loners watching, he portrays our small reality, showing how, even inside our own houses, we all are people with a shared imagination. The film where we all stopped.
I Have Seen the Fire Ship - 2020 - Daniel Murphy (USA) - 6'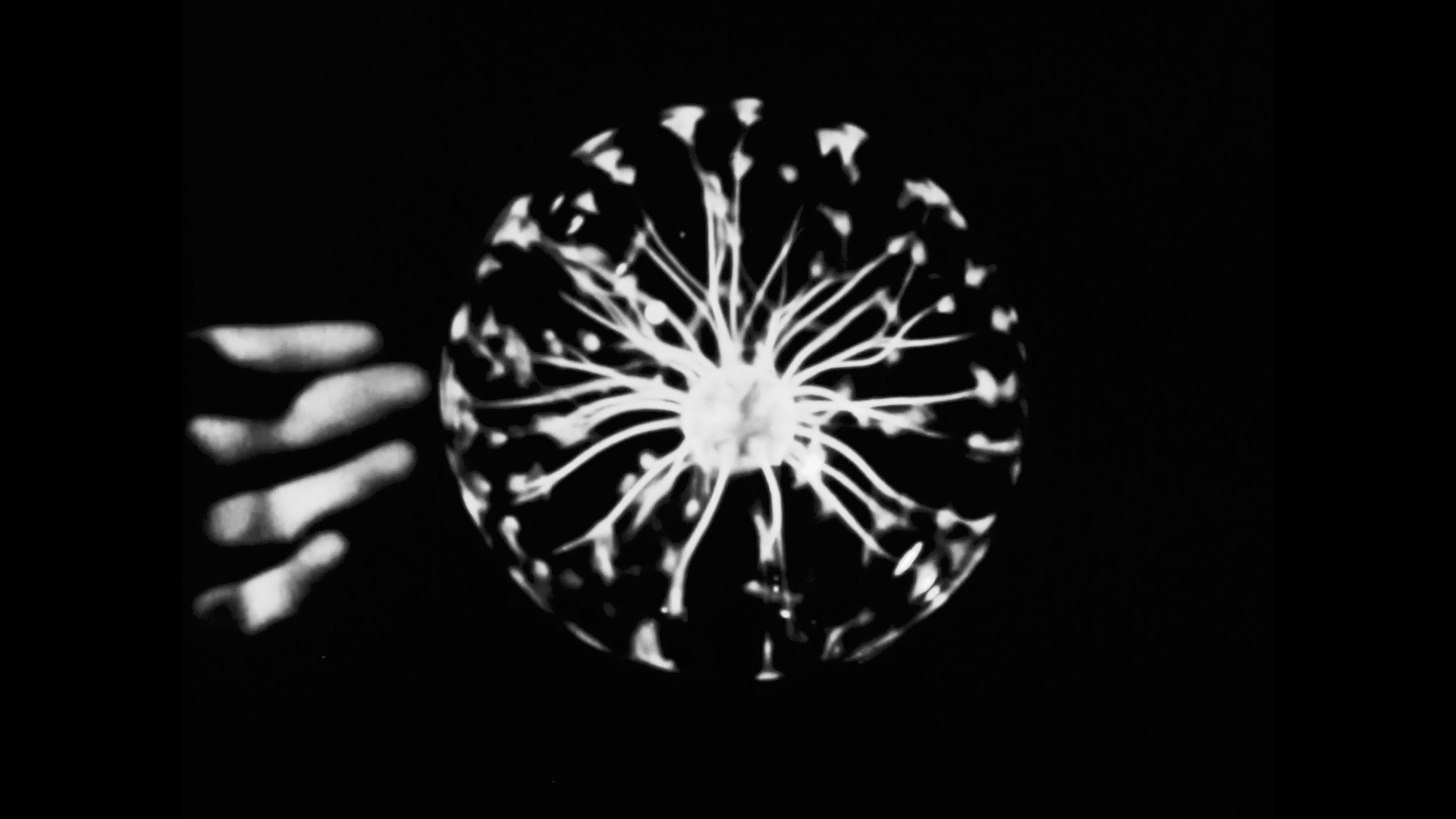 Una storia del terrore sull'avvistamento di una barca in fiamme nel bel mezzo del mare. Molti credono si tratti del fuoco di Sant'Elmo, un fenomeno atmosferico che si verifica durante le tempeste. Tuttavia, un testimone sostiene di aver visto l'imbarcazione in fiamme e la descrive finché non ne resta abbacinato. Il bianco e nero è spettrale: il nero predomina spargendo su tutte le immagini un senso di sepoltura; nelle scene più cupe i bianchi rifulgono come chemiluminescenze, espressioni di una forma visibile di magnetismo.

A story of terror about the sighting of a burning boat in the middle of the sea. Many believe it is St. Elmo's fire, an atmospheric phenomenon that occurs during storms. However, a witness claims to have seen the boat on fire and describes it until he is dazzled by it. The monochrome is ghostly: black predominates, spreading a sense of burial over all the frames; in the darkest scenes the whites glow like chemiluminescences, expressions of a visible form of magnetism.
incedere + retrocedere = ascendere (testamento) - 2020 - Ilaria Pezone (Italy) - 20'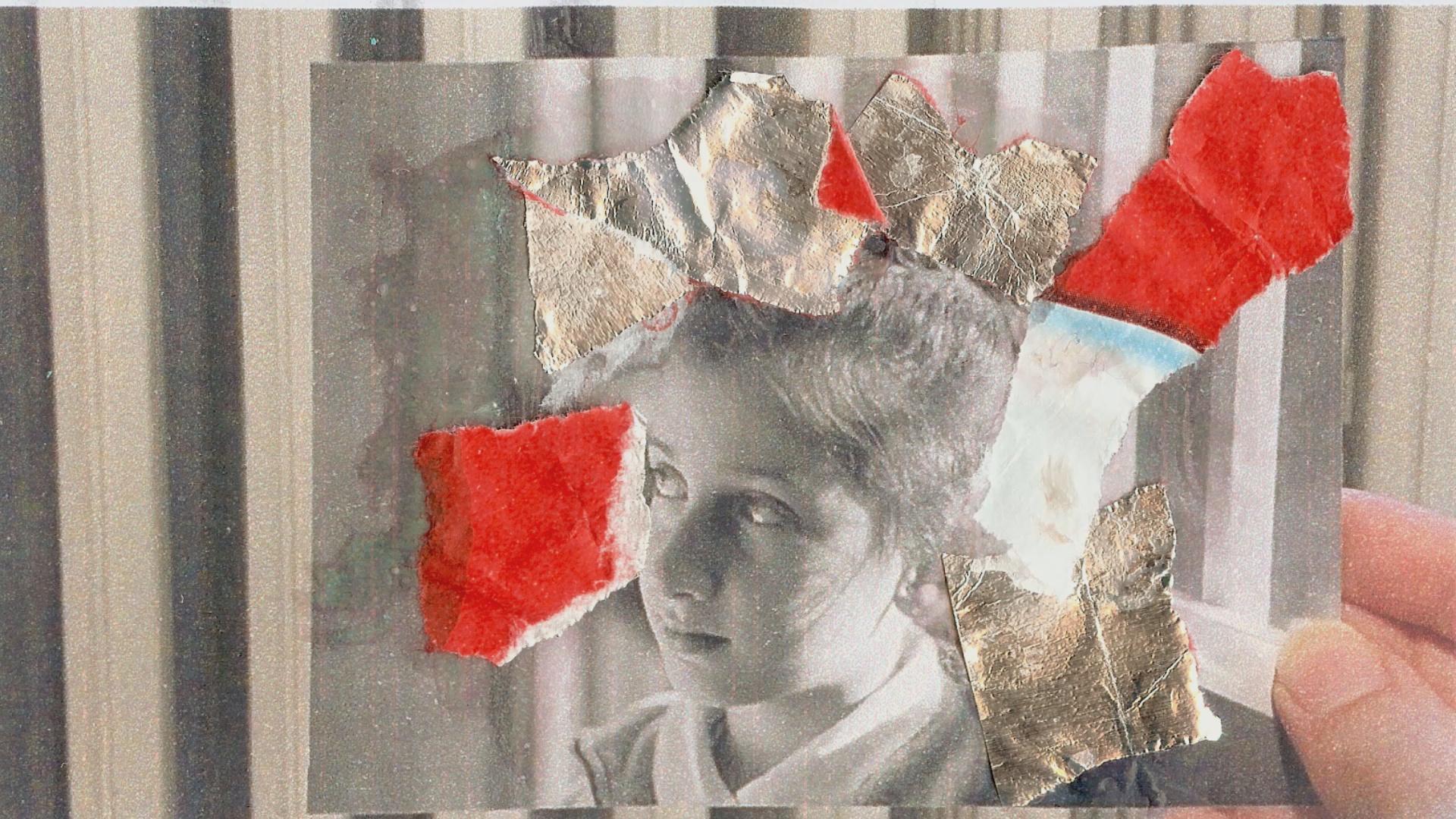 Un testamento letto in vita non può che suscitare riso o ribrezzo. E allora ecco un film terminale su un disarmo espressivo ed esistenziale: di giorno si vaga spersi di sequenza in sequenza, pieni di panico; di notte non si è all'altezza delle proprie visioni; nel mezzo: libri, studio, famiglia, lavoro, cronache private. Un film fatto di impacci, mai alla ricerca del sublime e consapevolmente derisorio nei confronti di ciò che è nozione, un film che invece si lascia guidare dal caso, un testamento senza testa, un film onesto.

A will read in life can only arouse laughter or disgust. So here is a terminal film about an expressive and existential disarmament: during the day we wander from sequence to sequence, lost, full of panic; at night we cannot live up to our visions; in the middle: books, study, family, work, private chronicles. A clumsy film, never in search of the sublime and consciously derisive of what is notion, a film that instead lets itself be guided by chance, a headless will, an honest film.
Milano di carta - 2020 - Gianmarco Donaggio (Italy) - 7'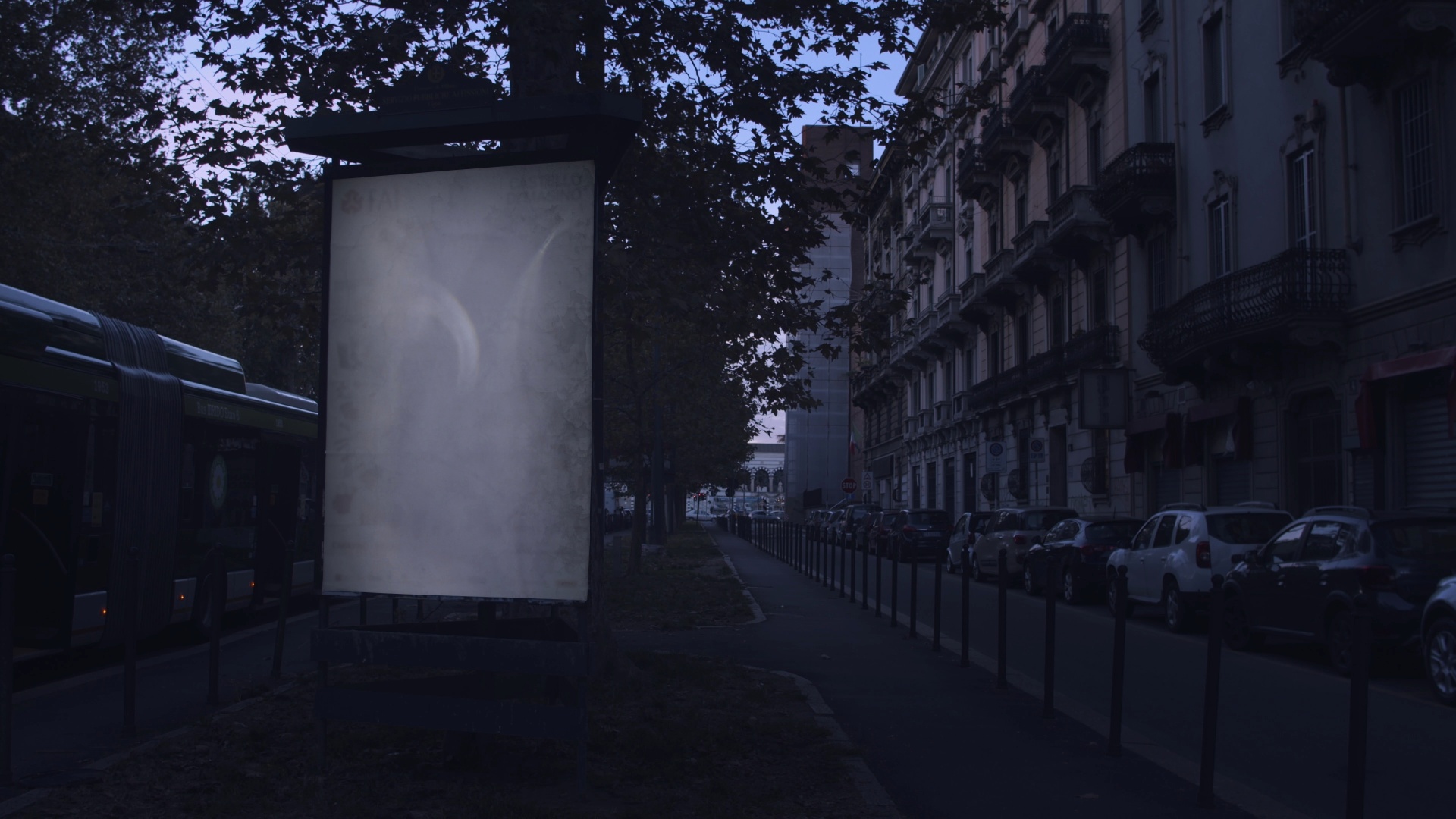 Che resta, se si taglia la pubblicità, se ci si sottrae al gioco dell'effimero sovrapposto all'effimero, realizzato dalla cartellonistica urbana dei manifesti, strappo su strappo, foglio su foglio? Schermi nudi, e non più "vetrine", che non cercano numeri, né consensi, né mercati. Il gesto registico, allora, consiste nel proiettare sui tabelloni pubblicitari la struttura microscopica della carta e le sue fibre, invertendo i rapporti tra grande e piccolo, tra profondità e ampiezza. Lo sguardo irradia fosfeni, increspature. Alle figure preferisce la polvere, alle dimensioni l'insondabile, al clamore quieta sonorità, agli oggetti l'estensione. Al manifesto della visione oppone epifania e stupefazione.

What is left of advertising when it is shred, when the game of the ephemeral on the ephemeral on advertising boards stops, tear after tear, paper after paper? Naked screens, that are not showcases anymore, that do not search for numbers, consent, or a market. The filmic act, then, consists of casting the microscopic texture of paper and its fibre on advertising boards, switching the relationship between big and small, between depth and width. The gaze radiates phosphenes, ripples. It prefers dust to figures, the unknown to dimensions, quiet sound to clamour, extension to objects. It opposes epiphany and wonder to the clarity of vision.
milkmo(M)On - 2020 - Carlo Michele Schirinzi (Italy) - 12'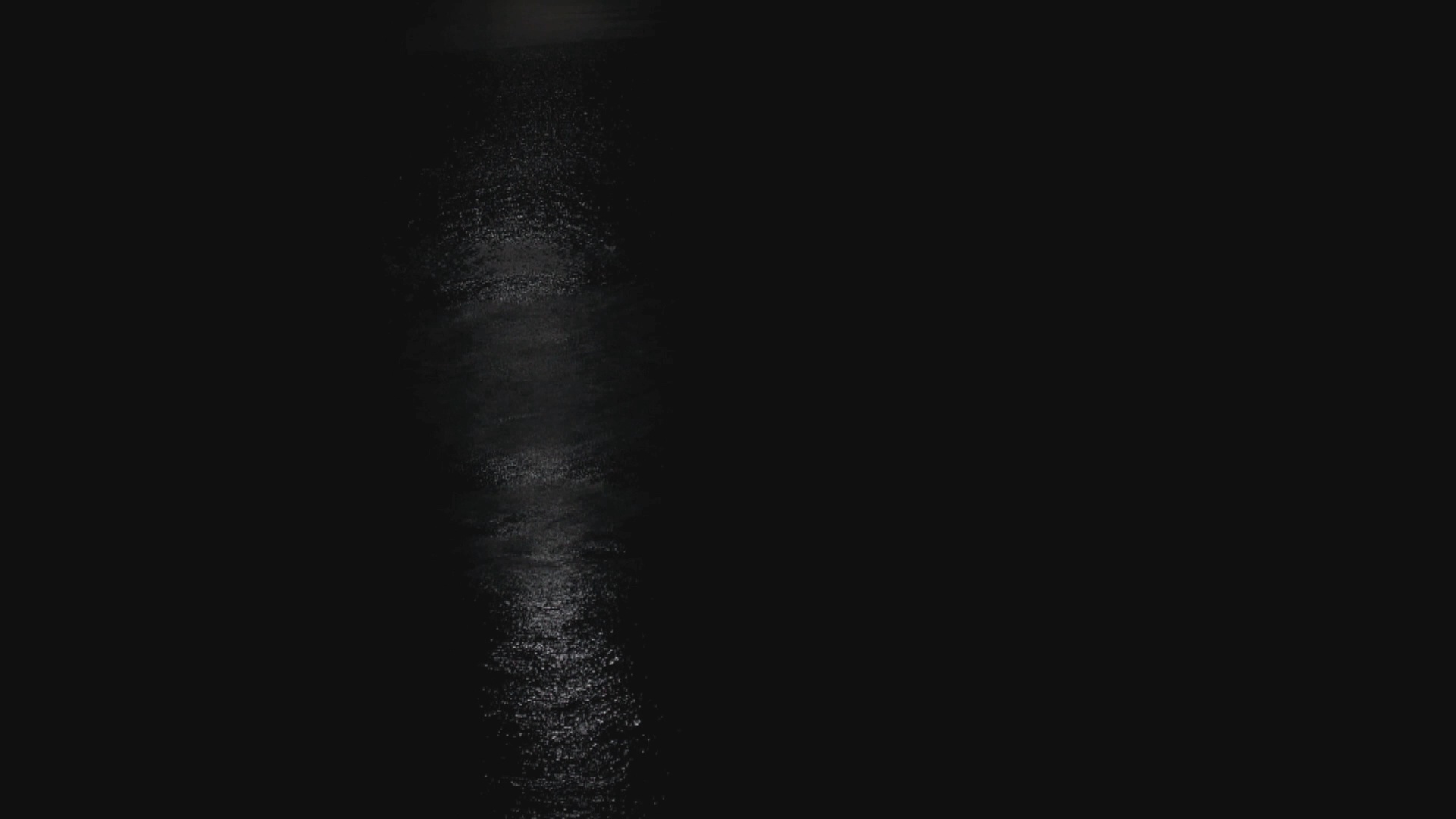 Un cineasta, sua madre, la notte: canto muto, per sole immagini, di puro affetto. Se ha volto di madre, questo amore, non ha bisogno di corpo, parole, storia per cantarsi. E non ha campo né confine. È luce senza inquadratura, se la notte al buio relega lo spazio. Solo algido e assoluto splendore si diffonde, lo stesso del volto attonito della luna, se a una mamma antica lei pure assomiglia, sospesa in un eterno «Oh!» che bagna di chiarore latteo i suoi figli terrestri. Luna che schizza via, se ci si prova a fissarla in inquadratura, disfa i suoi contorni fluttuando nel buio e sul mare, e madre che se ne va, si fa lontananza, altezza, luce, ricordo: è ciò che si vede quando si carezzano le palpebre di chi ci lascia, per chiudergli gli occhi, e resta amore. O è questo film.

A director, his mother, the night: a mute chant only made by images, by affection. If this love has the face of a mother, it does not need a body, words or a story to be told. It has neither field nor border. It is light without a framing, if the night relegates the space to dark. A cold and absolute splendour spreads out, just like the one coming from the astonished face of the moon, an old mother's face, suspended in an eternal «Oh!» that wets with milky brightness its terrestrial children. And if we try to catch it in a framing, that moon runs away, fading into the darkness and over the sea, like a mother that disappears, it becomes distance, highness, light, memory: it is what we see when we caress the eyelids of those who leave and, once their eyes are closed, what remains is love, or this film.
Mille Cipressi - 2021 - Luca Ferri (Italy) - 14'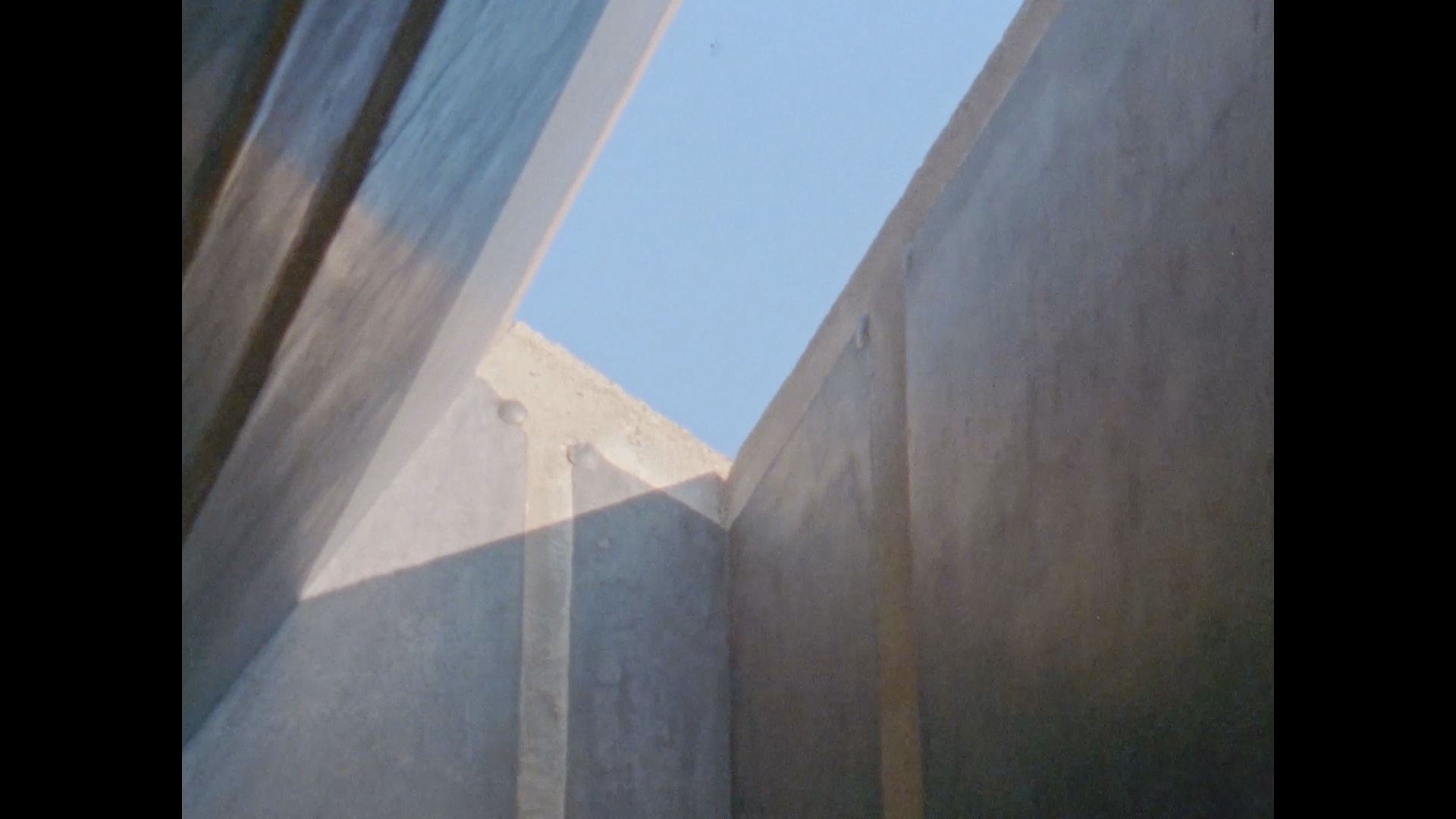 Modulare spazi e farvi abitare la percezione nel tempo: è qui che cinema e architettura si scoprono simili. Allora, la Tomba Brion, opera dell'architetto Carlo Scarpa, come occasione di cinema. Oppure: la visita che il film fa alla materia. Oppure: un sentiero alla visione, geometrico per linearità, e frammentato se lo sguardo si attarda sulla più minuscola cesellatura. Come volesse installarsi lì, mancata l'impresa di abbracciare l'intero. Un film fatto di visioni e parole che "non appartengono", sono di Scarpa, di chi ne visita l'opera, di tutti, impersonali. Che sa legarsi, con cristallina semplicità, a ciò che vede e sente. Che si prende più tempo di un picnic tra le lapidi. Che racconta anche del fallire, ma con marmoreo rigore.

To modulate spaces and make the perception of time inhabit them: both cinema and architecture do so. This is how Tomba Brion, by the architect Carlo Scarpa, becomes a way to make cinema. Or: how the film visits matter. Or: a path leading to vision, geometric in its linearity, fragmented when the gaze lingers on a minuscule engraving. As if it were trying to settle there, once the attempt to embrace the whole has failed. A film made of visions and words that "do not belong", because they are Scarpa's, the visitor's of his artwork, everyone's, they are impersonal. A film that knows how to adhere to what it sees and hears, in a simple, crystal clear way. A film that takes more time than a picnic among the headstones. That tells about failing too, but with a marmoreal rigor.
National Bird 2 - 2020 - Curtis Miller (USA) - 1'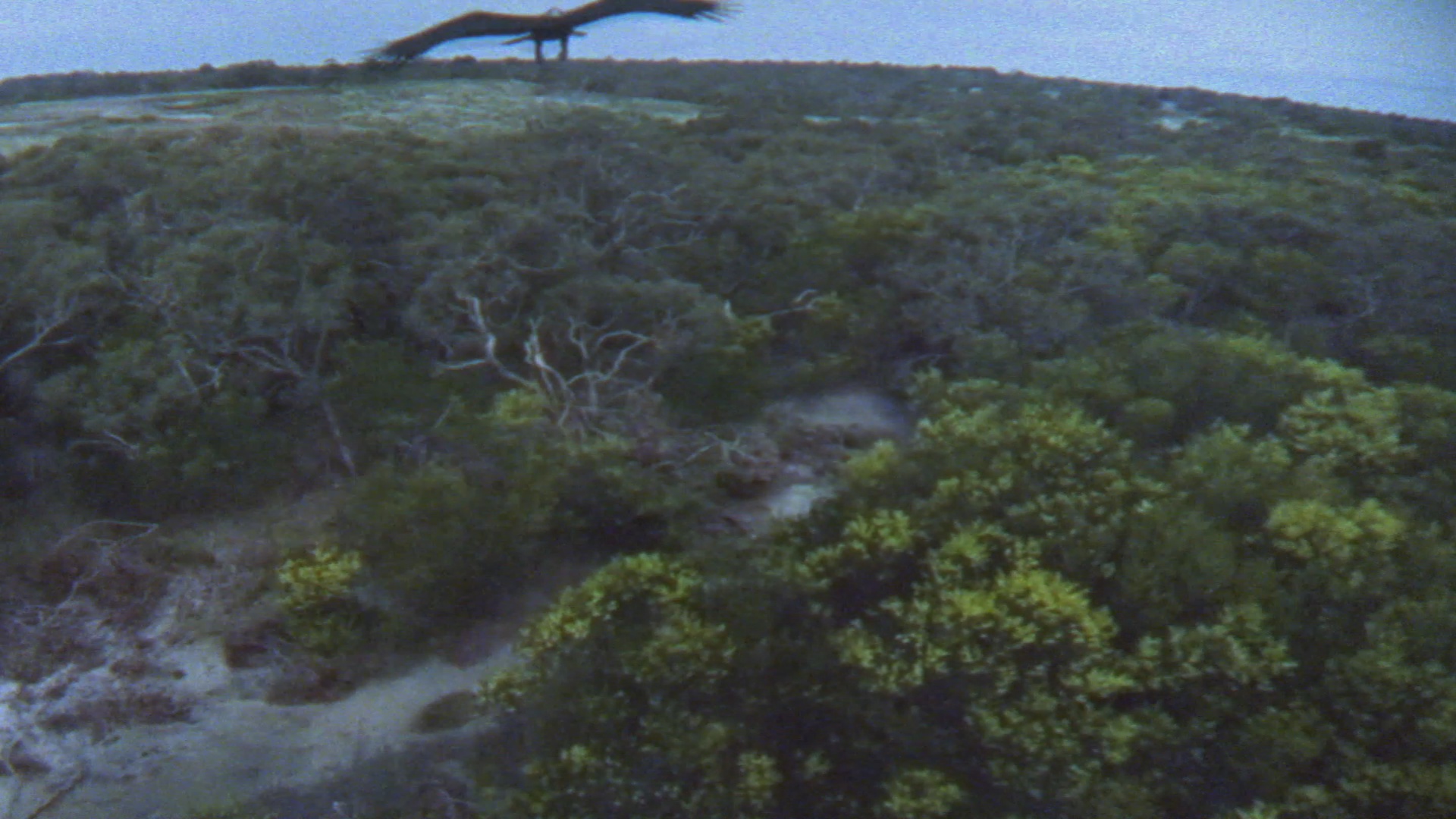 Una videocamera volante attaccata da un rapace cade a precipizio e una volta a terra viene molestata da un maiale. Quale metafora migliore per descrivere il processo di creazione? National Bird 2 è il minuto più precipitevole della storia del cinema.

A flying camera attacked by a raptor falls precipitously and once on the ground is molested by a pig. What better metaphor to describe the creation process? National Bird 2 is the most precipitous minute in the history of cinema.
Seasons/Patterns - 2020 - James Edmonds (Germany) - 10'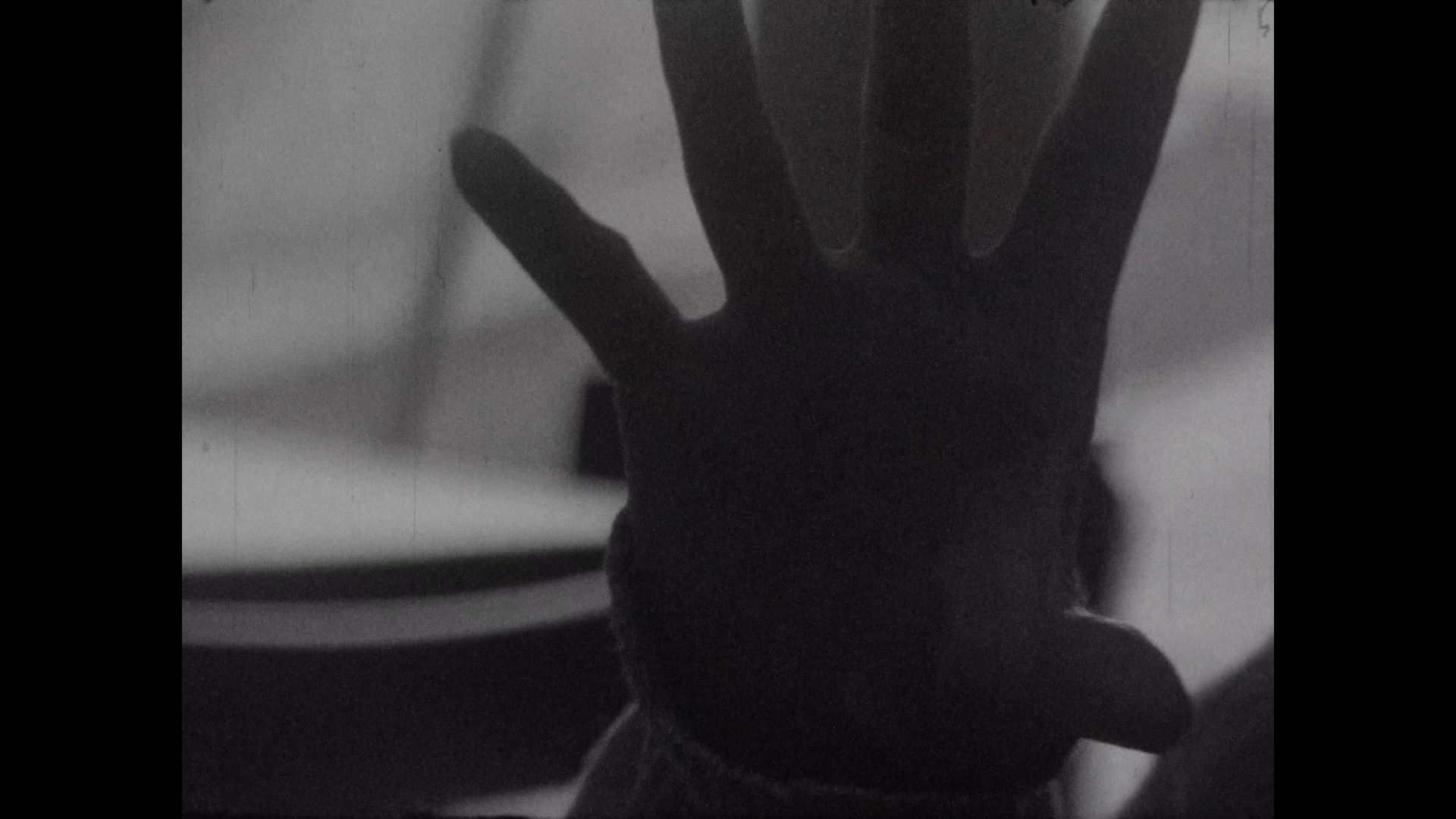 Quattro bobine per quattro stagioni, realizzate tra il 2016 e il 2017; a tenerle insieme pattern di luci e piante che portano con sé l'atmosfera e il sentimento di un anno che passa. E James Edmonds, rivedendo la forma-diario in ottica panteistica (Deus sive natura), questo tempo lo guarda dipanarsi nelle azioni quotidiane in casa, nei volti cari, nelle proporzioni di oggetti comuni sezionati da coltelli di luce. La camera segue il ciclo naturale del mondo osservando le braccia degli alberi che si allungano sugli specchi d'acqua o le gonne che danzano come petali di rosa. E non importa che ad essere filmato sia un albero o il suo riflesso sul marciapiede, né che la luce sia quella del sole o dei fuochi d'artificio: l'artista, poetando di geometrie, estrapola le forme e le carica di infinito.

Four reels for four seasons, made between 2016 and 2017; patterns of lights and plants hold them together, carrying with them the atmosphere and feeling of a year that passes by. And James Edmonds, reviewing the diary form from a pantheistic point of view (Deus sive natura), watches this time unravelling in daily actions at home, in the faces of loved ones, in the proportions of common objects dissected by knives of light. The room follows the natural cycle of the world by observing the arms of trees stretching over the water or skirts dancing like rose petals. And it does not matter whether a tree is filmed or its reflection on the sidewalk, whether the light is the one of the sun or the one of fireworks: the artist, poetizing about geometry, extrapolates the shapes and loads them up with infinity.
Il Silenzio del Mondo - 2020 - Riccardo Palladino (Italy) - 8'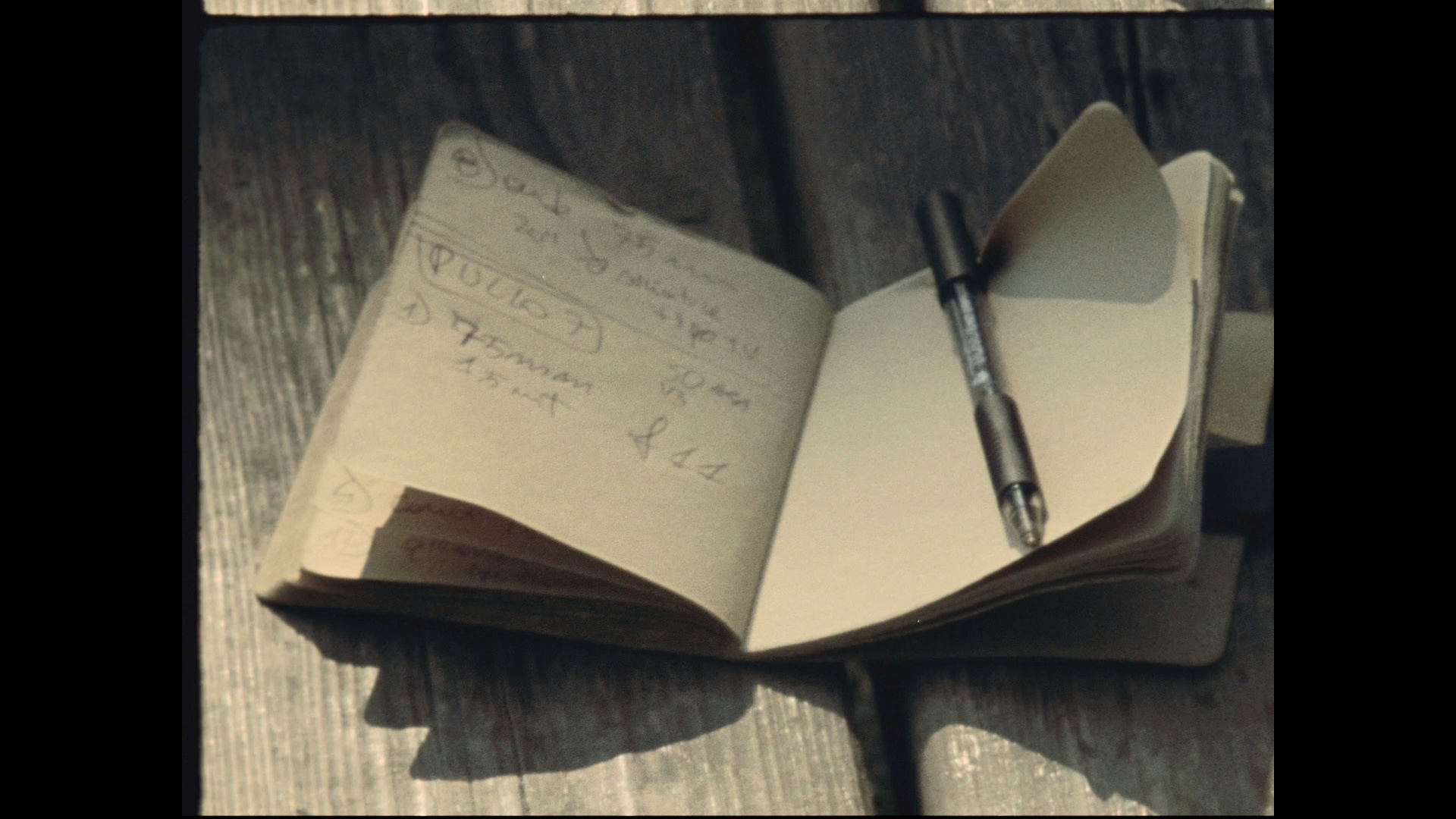 Del silenzio si diventa consapevoli nell'ascolto del suo opposto, così come l'assenza dell'immagine si rivela nel momento della sua concreta epifania. "Ascolto" dice una voce, bisbigliando come a voler per paradosso farsi evocazione di quel silenzio del mondo. Silenzio che non è mutismo, ma "parola dimenticata", "voce segreta", presenza naturale, umana, urbana che dal lampo brevissimo arriva al vortice entropico di immagini fuse. Non c'è una storia, ma se c'è è quella del mondo di cui fare esperienza. È il respiro più forte, ma è anche la sfida per chi guarda e tende l'orecchio per trovare i nessi di una dimensione esperita a tratti, in una sinestesia di ritmi visivi e acustici. Questo diario intimo e filosofico offre uno sguardo che non consegna risposte, ma mostra una traccia di sé, fosse anche solo un'ombra su un tronco.

We become aware of silence by listening to its opposite, just like the absence of an image is revealed in the moment of its concrete epiphany. «Listening» says a voice, whispering as if, paradoxically, it wanted to evoke the silence of the world. Silence that is not muteness, but "forgotten word", "secret voice", natural, human, urban presence that shifts from the shortest frame to the entropic vortex of merged images. There is no story, but if there is one, it is a story about the world to experience. It is the deepest breath, but it is also the challenge for the audience to find the connections of an intermittently experienced dimension, in a synaesthesia of visual and acoustic rhythms. This intimate and philosophical diary offers a perspective that does not give answers, but only a trace of itself, even if it is just a shadow on a tree.
Tobacco Barns Light Studies - 2019 - Rocio Mesa (Spain) - 2'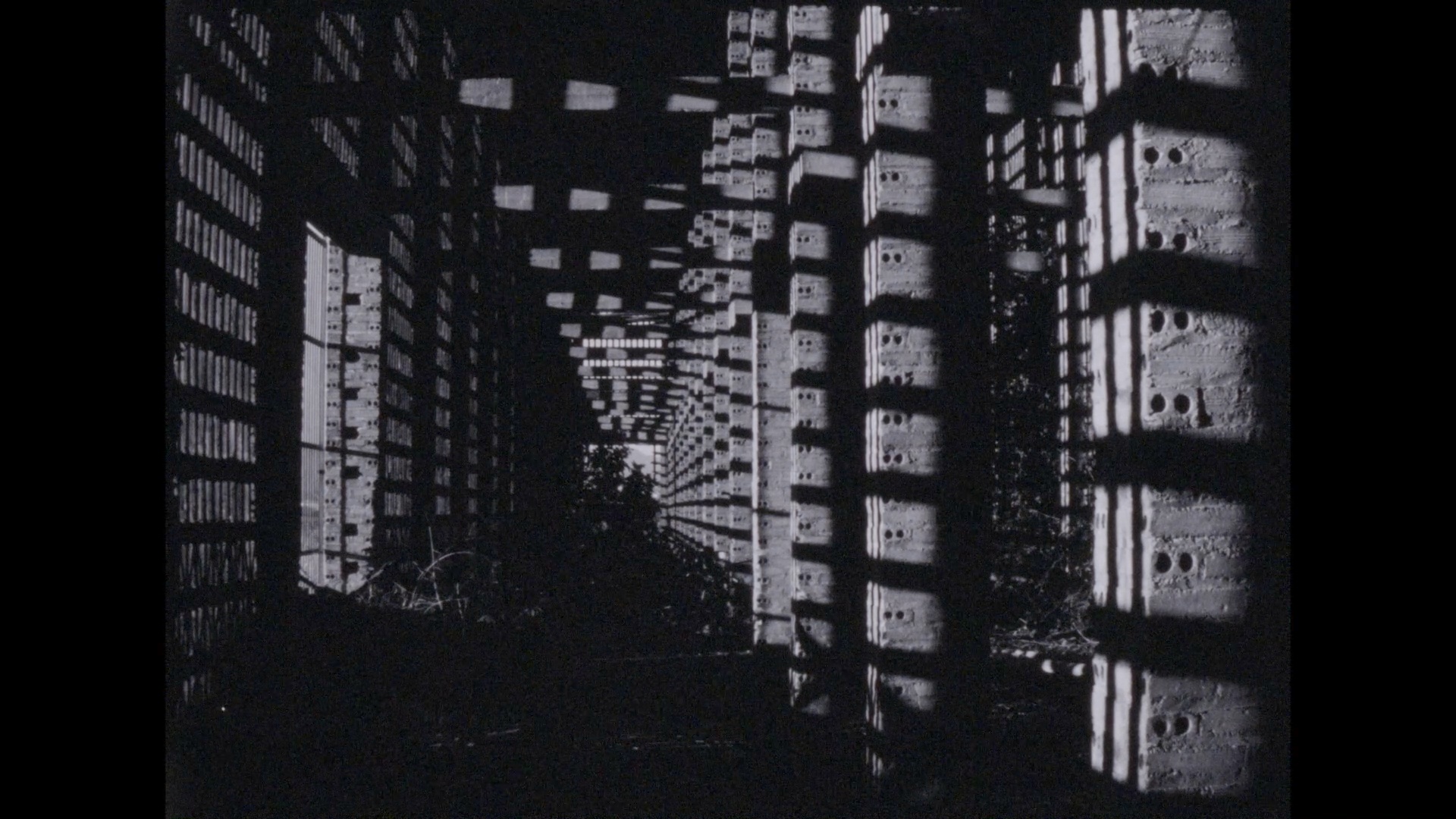 La luce oscilla e rimbalza animando fantasmi globulari dentro vecchi capannoni per l'essiccamento del tabacco; che, oramai abbandonati, sono diventati stanze per mostriciattoli luminosi e teste di pietra, pelli di legno e impronte di polvere, spettri di architetture e sculture di spettri. In questi palcoscenici oscuri qualcosa ancora si muove e danza e i fasci di tabacco, appesi come al patibolo, stanno lì a testimoniare che per il cinema la luce è attrice tanto quanto gli uomini.

The light bounces animating globular ghosts inside old sheds used for drying tobacco; which, now abandoned, have become rooms that host glowing monsters and stone heads, leather made of wood and prints of dust, ghosts of architectures and sculptures of spectres. On these dark stages something is still moving and dancing, and the bundles of tobacco, hanged on as they were on the gallows, prove that in films light can act just as much as people.
We Are Without - 2020 - SJ. Ramir (Australia) - 3'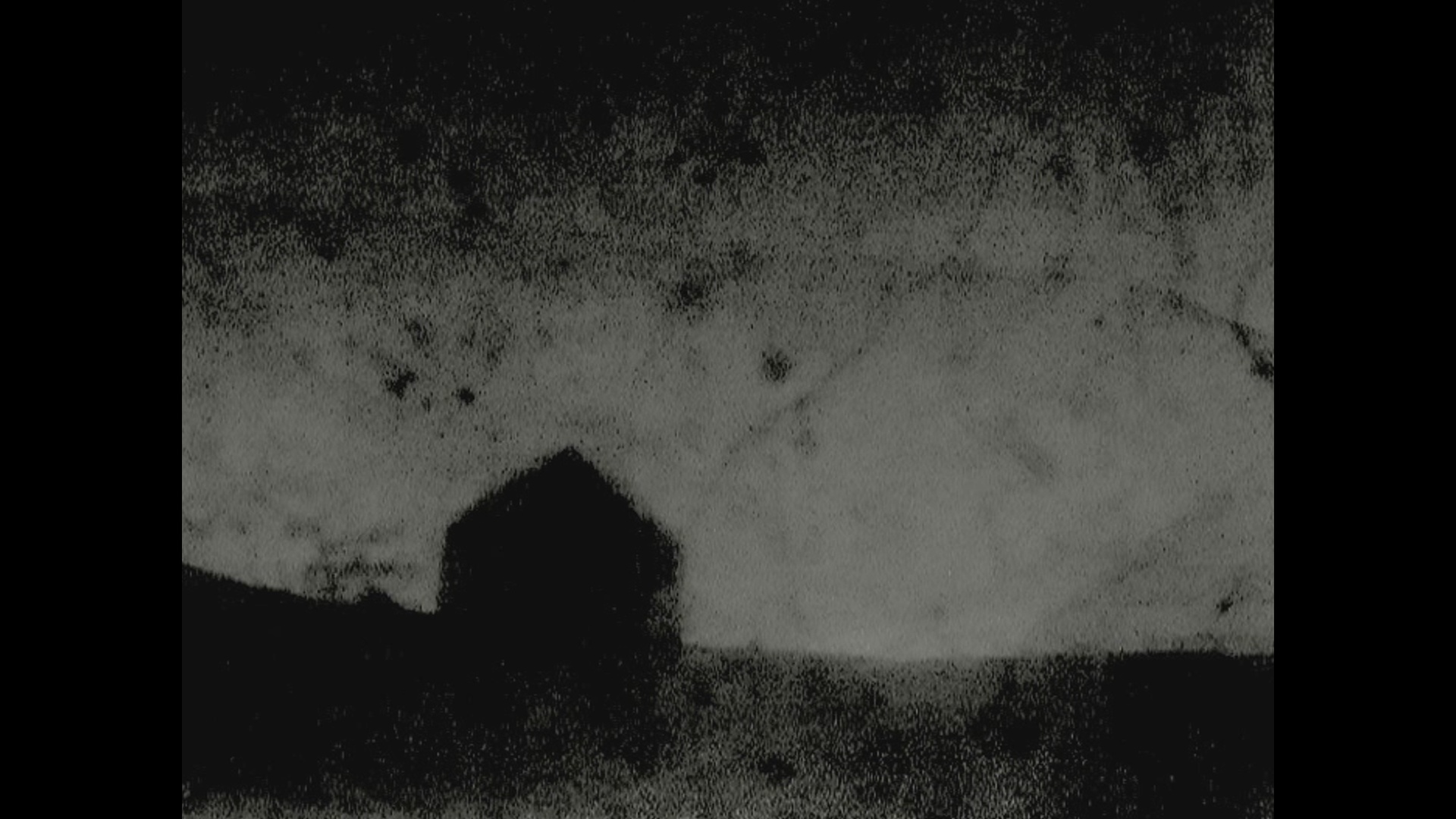 Si resiste alla morte coi ricordi, ci si sforza di tenere a fuoco le poche fenditure di luce di cui il tempo ancora non si è sbarazzato. Le campane suonano, casa è lontana, eppure SJ. Ramir cerca di non perderla mai d'occhio, cammina in un prato di schiuma marina, si avvicina, raccoglie manciate di terra. Cosa c'è in quella casa, o dietro quella che oramai è solo la silhouette di una casa? In realtà dentro (e dietro) ogni immagine c'è uno spessore, una densità che il regista ottiene con speciali lenti che fanno ribollire la grana della pellicola come acqueforti in movimento: «Do we as people, view anything in this world with a clear lens?». Cadono i petali di un fiore ma resta l'impronta sbiadita della propria memoria.

We resist death with memories, we try to keep in focus the few slits of light that time has not yet got rid of. The bells ring, home is far away, yet SJ. Ramir tries never to lose sight of it, he walks in a meadow of sea foam, he gets closer, he collects handfuls of earth. What is in that house, or behind what is now only the silhouette of a house? In reality, inside (and behind) each image there is a thickness, a density that the director obtains with special lenses that make the film grain boil like moving etchings: «Do we as people, view anything in this world with a clear lens?». The petals of a flower fall but the faded imprint of one's memory remains.
Zero Length Spring - 2021 - Ross Meckfessel (USA) - 16'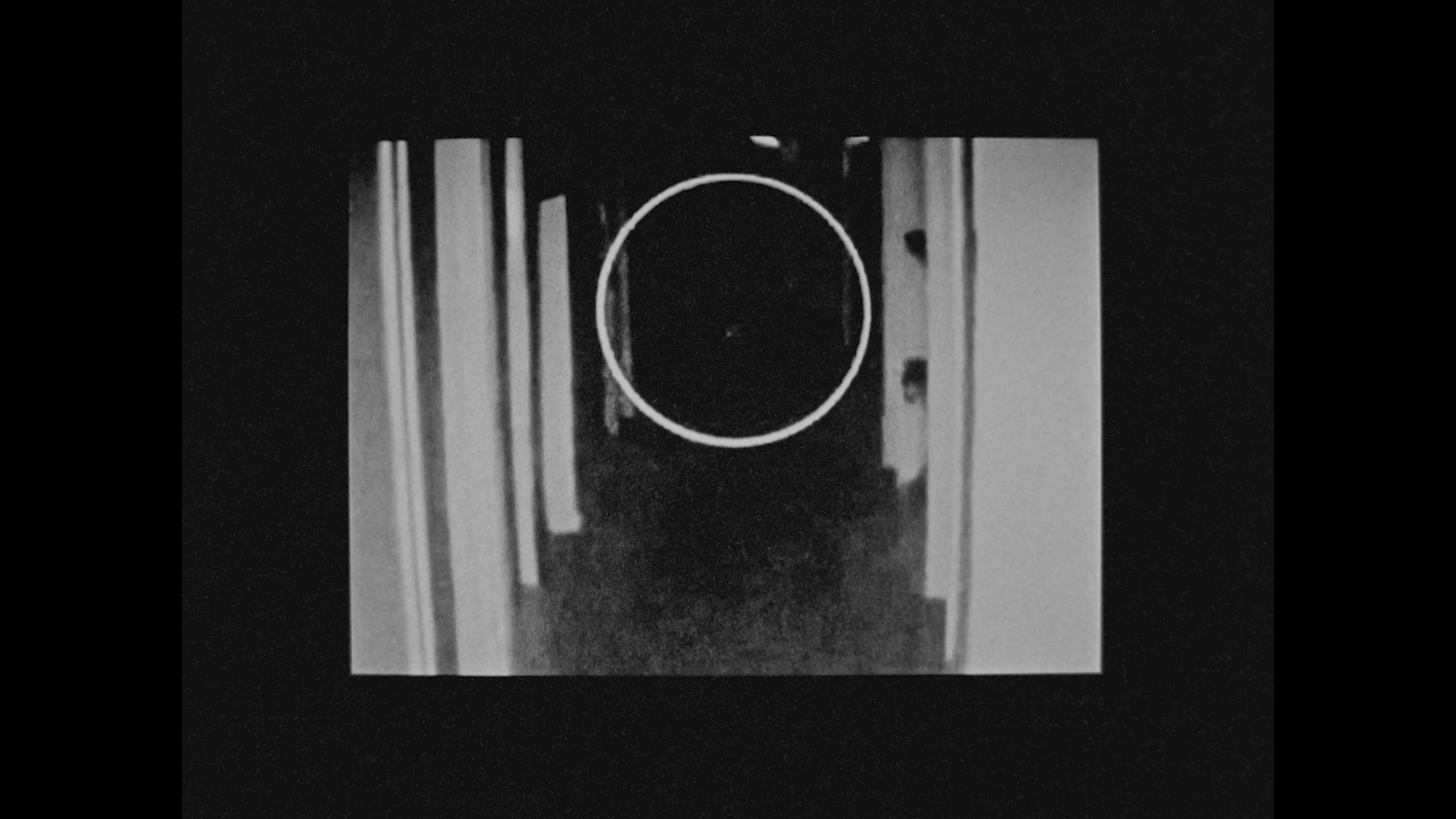 Nella messinscena del rinsavire un roditore vaga da una trappola mentale all'altra. Corpi misconosciuti alla coscienza si palesano nei deliri del malanno, mentre la voce della guaritrice tenta di convincere l'anima a tornare sui propri passi. Un lungo percorso fatto di «miglia e miglia di tenebra terminale» che si esprime in un bianco e nero spento, con grigiori che lasciano pensare a spiragli, a vie di fuga, ma che sono soltanto le finestre dov'è detenuto il lungo degente. Un film che costringe a star meglio. La pretesa di voler guarire è pura follia.

In the staging of coming to his senses, a rodent wanders from one mental trap to another. Bodies not recognized by conscience are revealed in the delusions of illness, while the voice of a healer tries to convince the soul to retrace its steps. A long journey made up of «miles and miles of terminal darkness» that is expressed in a dull black and white, with a greyness that suggests openings, escape routes, which, however, are only the windows where the long-term inmate is held. A film that forces you to feel better. The pretence of healing is sheer madness.